WALLPAPER
Turn a dull, lifeless space into a gorgeous room with wallpaper from our perfectly curated collection. Our attractive wallpaper range includes everything from eclectic prints and patterns to subtle designs. Shop our extensive collection to revitalise your home.

---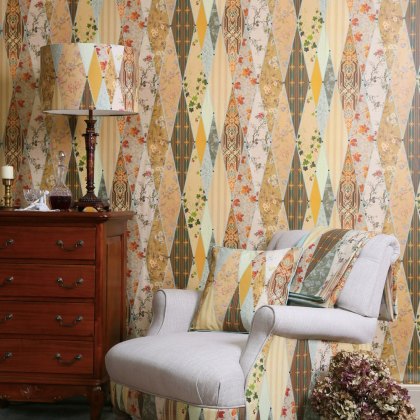 The Chateau Wallpaper Museum Wallpaper
The Wallpaper museum collection features a beautiful design. Angel tells of her first official visit to the attic where she found roll upon roll of beautiful wallpaper offcuts from designs which had adorned the walls of the Chateau. To celebrate the colours and designs a piece of each wallpaper now resides in her very own wallpaper museum. This stunning pattern has now been converted into homewares textiles which make a real statement piece in any room.
The Chateau Potagerie Cream Wallpaper
The Potagerie Collection is inspired by a mix of things; Dick's love for the walled garden 'the potagerie', and the room which overlooks it. Angel created a real story with this design with the appearance of carrots, courgettes, sweet peas and of course bees! She even took inspiration from the flowers on the century old wallpaper which originally adorned the walls of the room.
Wallpaper at Aldiss of Norfolk
Elevate your home's interior with the exquisite wallpaper collection from Aldiss. Our wide range of patterned wallpapers allows you to create a captivating ambiance in any room, from the bedroom to the dining room and living room. Discover the luxurious designs and opulent textures that will transform your walls into works of art. Immerse yourself in the timeless beauty of The Chateau by Angel Strawbridge, renowned for its elegant and distinctive style. Experience the opulence and attention to detail that these wallpapers bring to your space. With an array of colors and patterns to choose from, you can find the perfect wallpaper to match your unique taste and décor. Whether you desire a bold statement wall or a subtle backdrop, our wallpaper collection has something to suit every preference. Let your walls tell a story and set the stage for unforgettable moments with Aldiss' stunning wallpaper selection. Explore our range now and infuse your home with charm and sophistication.
---