BEDSPREADS
Transform your bedroom into a haven of elegance with Aldiss' exquisite 'Bespreads' collection. Featuring a curated selection of bedding, quilted throws, and bedspreads, our range offers both style and comfort. Discover the timeless beauty of William Morris designs, renowned for their intricate patterns and rich colors. Whether you seek a sophisticated touch or a cozy layer for your bed, our bespreads add a touch of luxury to any space. Explore our collection and indulge in the perfect blend of aesthetics and comfort for your dream bedroom retreat.

---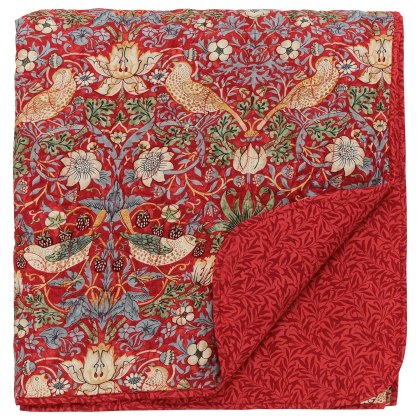 Morris & Co Strawberry Thief Quilted Throw
A stunning classic, the Strawberry Thief range from Morris & Co brings a touch of iconic design into your bedroom. Crafted from soft and breathable cotton in an opulent 300 thread count that feels wonderful against the skin, the print was created by William Morris in the late 1800s and was inspired by the cheeky thrushes that pilfered fruit from his countryside home in Oxfordshire.
Wild Garden 260x260cm Bedspread
RRP £145.00
Our Price
£72
The Wild Garden bedspread from belledorm features a design rich in pattern featuring large scale chrysanthemums in warm pink tones on an indulgent navy background. Small scattered leaves on the reverse of the design add a complimentary touch. This lovely quilted throw was inspired by William Morris and is perfect to pair with the wild garden duvet set to complete the look of your bedding.
---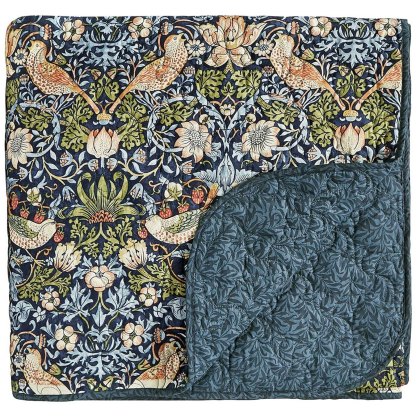 Bedspreads at Aldiss of Norfolk
Add a touch of sophistication to your bedroom with Aldiss' Bedspreads collection. Discover exquisite designs and premium quality from renowned brands like Morris & Co. Wrap your bed in luxury with our polyester bedspreads, offering both comfort and durability. Explore our quilted blankets, providing an extra layer of warmth and texture to your bedding ensemble. Create a coordinated look with our matching duvet sets, ensuring a seamless and stylish appearance. Experience the softness and breathability of cotton bedspreads, perfect for a restful night's sleep. Choose from a variety of patterned options to suit your personal taste and complement your decor. Elevate your bedroom with the timeless elegance of Aldiss' Bedspreads collection. Shop now and transform your sleeping space into a haven of comfort and style.

---