WALLPAPER
Turn a dull, lifeless space into a gorgeous room with wallpaper from our perfectly curated collection. Our attractive wallpaper range includes everything from eclectic prints and patterns to subtle designs. Shop our extensive collection to revitalise your home.

---
The Chateau Potagerie Cream Wallpaper
The Potagerie Collection is inspired by a mix of things; Dick's love for the walled garden 'the potagerie', and the room which overlooks it. Angel created a real story with this design with the appearance of carrots, courgettes, sweet peas and of course bees! She even took inspiration from the flowers on the century old wallpaper which originally adorned the walls of the room.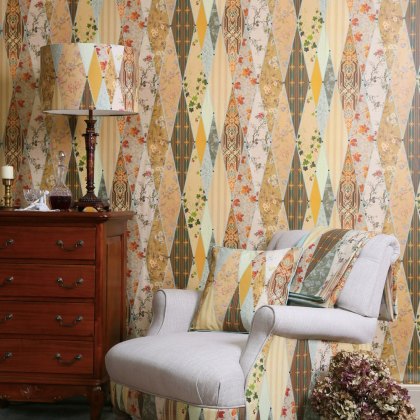 The Chateau Wallpaper Museum Wallpaper
The Wallpaper museum collection features a beautiful design. Angel tells of her first official visit to the attic where she found roll upon roll of beautiful wallpaper offcuts from designs which had adorned the walls of the Chateau. To celebrate the colours and designs a piece of each wallpaper now resides in her very own wallpaper museum. This stunning pattern has now been converted into homewares textiles which make a real statement piece in any room.
---
The Chateau Emerald Fan Wallpaper
The Chateau wallpaper will brighten up any plain space and all of our intricate designs boast an array of beautiful colours and patterns that are totally unique. Emerald Fans vibrant colour palette of teal, light blue and mustard contrast each other perfectly and make a bold statement. Adorned with illustrated fans, flowers and 1920s-inspired motifs, this design is a true showstopper.