EMMA
Emma is the most awarded UK mattress brand. Emma combines German engineering with the best foam technology and British manufacturing. Enjoy a quibble free 200 night trial with smart, helix & Diamond Emma mattresses from Aldiss.

---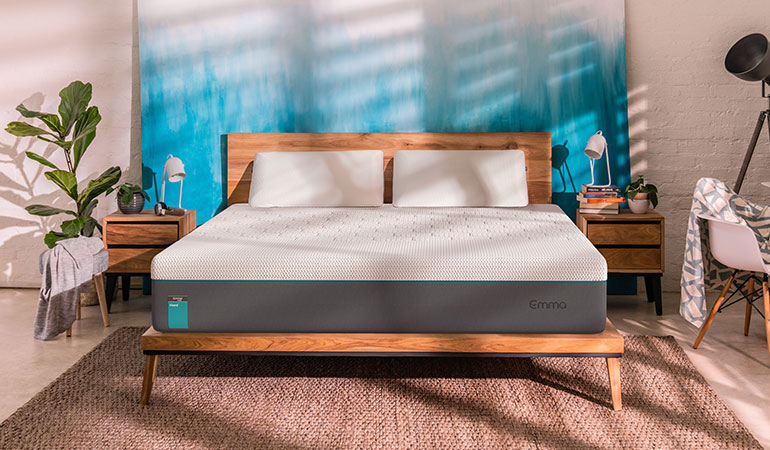 At Aldiss, we're proud to offer some of the best mattresses on the market from Emma. The award winning Emma mattresses are designed to provide exceptional comfort and support for a good night's sleep. But don't just take our word for it - try it out for yourself with our 200 night quibble-free trial!
Emma mattresses are made with high-quality materials that help regulate your body temperature, ensuring you stay comfortable through the night. The mattresses feature pressure-relieving memory foam and a supportive base layer, so you wake up feeling refreshed & ready to take on the day.
Our 200 night quibble-free trial means you can try Diamond, Helix and Smart Emma mattresses in the comfort of your own home. If you're not completely satisfied with your purchase, we'll give you a full refund and collect the mattress for free. That's how confident we are in the quality of Emma Sleep products!
Order your Emma mattress from Aldiss today and start getting the best night's sleep you've ever had!

---
---
---
---

---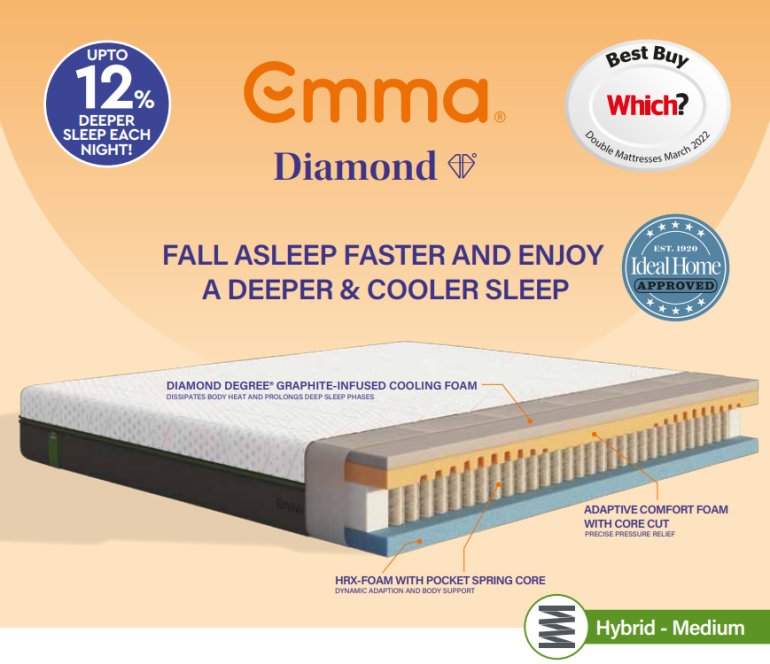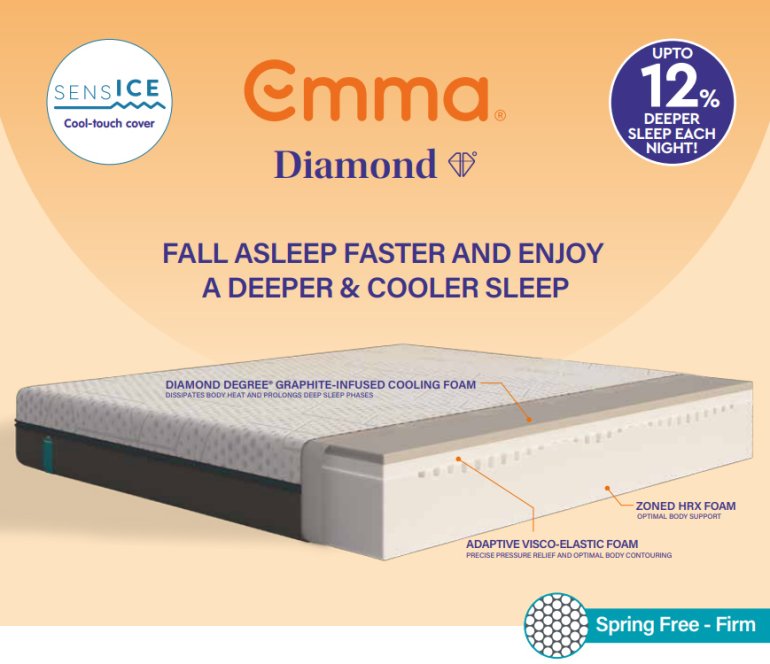 ---

---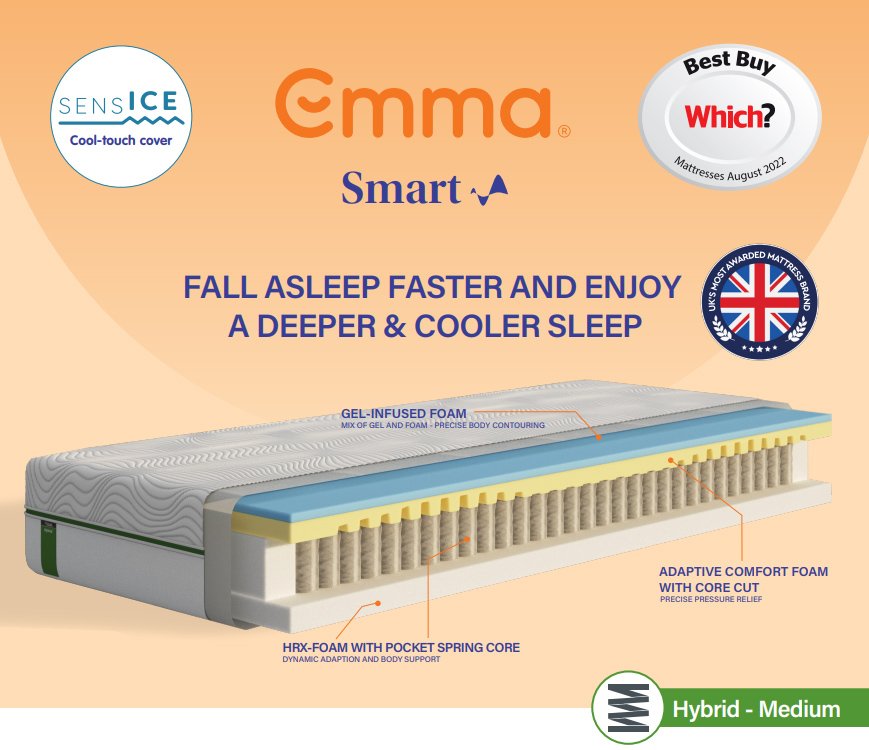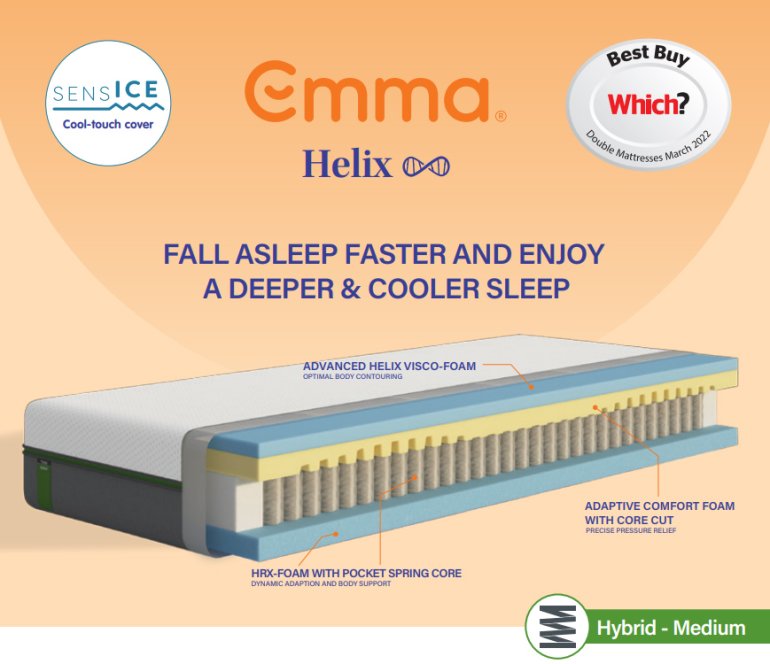 ---
---
Welcome to the Emma mattress collection at Aldiss'. Emma hybrid & memory foam mattresses will redefine your sleep quality. As a dedicated stockist, we proudly present the award winning Emma Smart, Helix, and Diamond models, each designed to elevate your sleep experience.
Experience supreme comfort, spinal alignment & pressure relief with the Emma Smart mattress. A gel infused memory foam layer molds to your body's unique shape, ensuring optimal support for your spine, regardless of your preferred sleeping position. Bid farewell to restless nights and embrace the joy of waking up refreshed after a great night's sleep.
Explore the Helix mattress, a true testament to enhanced sleep quality. Engineered for deeper sleep, it incorporates a cooling foam layer that helps regulate your body heat, promising undisturbed slumber through the night. No matter if you're a back, side, or stomach sleeper, the Helix mattress adapts to your needs, delivering remarkable comfort & support.
Indulge in the luxurious comfort and innovation of the Diamond mattress. Designed to cradle your body with the option of a spring free memory foam mattress or a pocket spring core. It relieves pressure points and supports spinal alignment. Complemented by a cooling foam layer, this mattress creates an ideal sleep environment, ensuring you wake up revitalized and ready to take on the day.
Elevate your sleep with our exclusive selection of Emma Smart, Helix, & Diamond mattresses. As a trusted stockist, we invite you to experience the transformative qualities of memory foam layers, exceptional spinal alignment, and advanced cooling foam technology. Your journey to a superior night's sleep begins with us.

---